Filter by Category
Arts & Crafts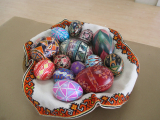 Ukrainian (Pysanka) Egg Decorating Messalonskee W19
with Lesia Sochor

Apr 3, 2019 at 5:30 pm

, runs for 1 week
The Pysanka, a decorated egg, was common among Slavic peoples as far back as 5,000 B.C. and was an important spring ritual. When decorating eggs in the Ukrainian style, designs are drawn on the egg with melted beeswax, which flows from a tool called a Kystka. The eggs are then dipped in a series of dyes and the final pattern is revealed when the wax is removed. Please bring reading glasses, if you use them. A $25 materials fee if payable to the instructor at the start of class. Limit 15 students. Storm date of Apr. 10.
Watercolor Painting for Beginners W19
with Dorene Paul-Hebda

Mar 5, 2019 at 5:30 pm

, runs for 6 weeks
This course is for those who want to learn how to paint with watercolor. Students will be taught about watercolor paper, types of brushes and paints. Techniques of painting wet on wet, and dry brush will be demonstrated. A lesson plan will be made available to registered students. A supply list is available on our FAQ tab at midmaine.maineadulted.org. Limit 14 students.
Zip-up the Back Cabled Baby Sweater Messalonskee W19
with Linda Rockwell-Warner

Mar 5, 2019 at 6 pm

, runs for 4 weeks
Use your knitting knowledge (Knit and Purl) to knit a classic pattern for a baby. This class will teach you to knit cables (don't worry, that's why we are offering this class!). You will knit a simple, but totally wearable sweater with minimal seaming, and learn how to sew in a zipper. This is a great sweater for the sweet baby you know or to donate to a charity. You will need worsted weight yarn (about 350-400 yards) and size US 8 -24 inch circular knitting needles for the first class. 10% discount at the Yardgoods Center in Waterville. Limit 10 Students.