Filter by Category
Cooking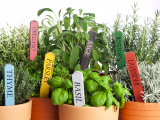 Culinary Herb Gardening Messalonskee W19
with Pat Michaud

Apr 9, 2019 at 6 pm

, runs for 1 week
We will discuss selecting, growing, and harvesting herbs, and how to use them in cooking. Join us and learn how to make your garden even more beautiful as well as useful with herbs. Limit 20 students.
Preserving the Harvest: Hands-on Jams and Jellies Messalonskee W19
with Deborah Barnett

May 15, 2019 at 5:30 pm

, runs for 1 week
Ever wonder how to make and preserve your own jams and jellies? This hands-on food preservation workshop will teach you the basic steps for both canning and freezing. Participants will receive a "Preserving the Harvest" food preservation packet, and will learn recommended methods for preserving foods, the latest and safest recipes, about equipment to insure safety, and how to check for properly sealed jars. Please bring a potholder with you to the workshop (you will be able to take home a jar of what we prepare that evening!). A $20 materials fee is payable to the instructor at the start of class. Limit 10 students.