Filter by Category
Cooking
Fresh Cheese Making Messalonskee F19
with Jean Koons

Nov 5, 2019 at 6 pm
In this class students will learn the hands-on-process of making fresh cheese - including yogurt, ricotta, Paneer, Mozzarella, and Caso Rexo (buttermilk cheese). Students will need to bring three plastic sandwich bags or three plastic containers with lids to take samples home. A $10 materials fee (no credit cards) is payable to the instructor at the start of class. Limit 15 students.
Full Course
Healthy Living Module 2: Healthy Meals F19
with Paula Raymond

Oct 28, 2019 at 12:30 pm
These six-week long modules work with students to address the barriers that prevent them from going back to school or changing careers. This is a great choice for students who are not sure they can commit to a full-semester course. Each module will meet once a week for six weeks and are independent of the other. This allows students to take either or both of the courses. Each completed module earns a student one-third high school credit towards their diploma, however, the modules are open to any adults in the community. No class Nov. 11.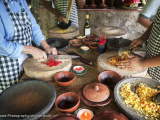 Indian Food at Home! F19
with Lisa Thrace

Nov 6, 2019 at 6:30 pm
Indian food does not need to be an intimidating fare to cook at home. Learn the aspects of Indian cuisine, including spice factor and pairing with other food elements. Students will learn to make Naan along with an authentic vegetarian soup and a more modern chutney. Only requirements are taste buds and an open mind. Students will bring home a traditional Indian dinner for the whole family at the end of class. A $20 materials fee is payable to Snow Pond Center for the Arts at the start of the class. Limit 12 students.
Full Course