Filter by Category
Travel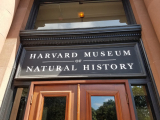 Online Registration Unavailable
Lawrence Trip- Harvard Museum of Natural History
with Kathy Cote

Apr 1, 2023 at 7 am

, runs for 1 week
For more information and to register call Kathy at 207-453-4200, ext. 3114
Join Lawrence Adult Education on a trip to Cambridge, Massachusetts to explore the Harvard Museum of Natural History and Harvard Square. Your fee covers travel and your admission to the museum (which also includes admission to The Peabody Museum of Archaeology & Ethnology). 
The Harvard Museum of Natural History was established in 1998 as the public face of three research museums: the Museum of Comparative Zoology, the Harvard University Herbaria, and the Mineralogical & Geological Museum. Presenting these incomparable collections and the research of scientists across the University, the Harvard Museum of Natural History's mission is to enhance public understanding and appreciation of the natural world and the human place in it, sparking curiosity and a spirit of discovery in people of all ages. 
Exhibitions:  Africa, Arthropods, Asia, Birds of the World, Cenozoic Mammals, Central and South America, Climate Change, Earth & Planetary Sciences, Evolution, From the Hands of the Makers, Glass Flowers, Great Mammal Hall, In Search of Thoreau's Flowers, Marine Life, New England Forests, Orb-Weavers, The Rockefeller Beetles, Romer Hall of Vertebrate Paleontology, Sea Creatures in Glass, and Swimming with Sharks.
Today's museum reflects both the history of its affiliate museums and an evolution toward a twenty-first-century institution that presents cutting-edge research, addresses contemporary issues, and offers creative educational experience in a unique, intimate setting. 
We'll make a day of it at Harvard Square, and have time to explore many options for dining, shopping, film screenings, bookstores, performing arts, lodging, and more, all geared towards varied interests and budgets. See a full directory at https://www.harvardsquare.com/. 
We'll be traveling on a motorcoach bus with Cyr Bus Lines which will have ample room for your belongings and any purchases you make. Be sure to wear comfortable shoes! 
Saturday, April 1, 2023 (deadline to register - March 17) 
7:00 a.m. departure from Lawrence Jr. High School parking lot
7:30 a.m. departure from West Gardiner Park and Ride across from the Service Plaza 
We'll take a short break at the Kennebunk Rest Area and arrive in Cambridge at approximately 11:00 a.m. 
5:00 p.m. departure from Cambridge 
$101 adults; $99 seniors 65+; $96 kids 3-18 (discounts applied at checkout by entering birthdate
For more information and to register call Kathy at 207-453-4200, ext. 3114
MY FAIR LADY Broadway in Boston Trip W23
with Sherrie Brann

Apr 22, 2023 at 7:30 am

, runs for 1 week
Lerner & Loewe's My Fair Lady tells the story of Eliza Doolittle, a young Cockney flower seller, and Henry Higgins, a linguistics professor who is determined to transform her into his idea of a "proper lady." But who is really being transformed? Directed by Bartlett Sher. Boasting such classic songs as "I Could Have Danced All Night," "The Rain in Spain," "Wouldn't It Be Lovely" and "On the Street Where You Live."
Travel in the comfort of a Cyr Bus Lines Motor Coach and arrive at Quincy Market in time for lunch and shopping. The bus will depart from the Waterville Senior High School back parking lot at 7:30 a.m. and will make another pick-up at the West Gardiner Service Plaza at 8:00 a.m. After a "stretch-your-legs" break in Kennebunk we'll arrive at Quincy Market at around 11:30 a.m. for some shopping and lunch on your own. We will then attend the 2:00 p.m. matinee at the Citizens Bank Opera House with our seats located in the mezzanine section! We will head back to Maine after the show with a "pit-stop" in Kennebunk and drop off in Gardiner, we should return to Waterville by approximately 9:00 p.m. Limited tickets!
Deadline to register: March 15. No refunds will be given after this date.
Fee includes transportation and theater ticket. You are expected to pay for your own meals.