Filter by Category
Travel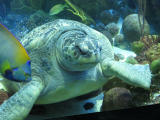 Registration Unavailable
Day Trip to Boston and the New England Aquarium W18
with Shawna Quimby

May 12, 2018 at 7:30 am

, runs for 1 week
Join us for a fun packed day in Boston and a visit to the New England Aquarium. At the aquarium, you can explore coral reefs, experience a rain forest, meet a variety of creatures and even attend a movie in the IMAX Theater. Your day includes time to enjoy the shopping and eating opportunities at Faneuil Hall and Quincy Market.
Depart in relaxation on a Cyr Bus motor coach from Waterville at 7:30 a.m. or from the West Gardiner Service Plaza at 8:00 a.m. while enjoying Disney's Finding Nemo. Stop for a brief breakfast and bathroom break in Kennebunk before arriving at the aquarium around 11:30 a.m. Spend as much time as you want at the aquarium and/or walk to nearby locations for shopping and eating. The bus will pick you up at the aquarium at 5:00 p.m. On the way home, we will feature Finding Dory, the sequel to Finding Nemo. After a stop at the Kennebunk Rest Area you will arrive home at approximately 8:30-9:00 p.m.
Your registration fee includes transportation to and from Boston and general admission to the aquarium. Special event tickets, IMAX tickets, and meals are not included. An adult must accompany children under the age of 18.
Saturday, 7:30 a.m.-9:00 p.m., May 12 New England Aquarium, 1 Central Wharf, Boston, MA
Depart 7:30 a.m. from Waterville (Elm Plaza Shopping Center parking lot) Return 9:00 p.m.
Depart 8:00 a.m. from Gardiner (West Gardiner Service Plaza) Return 8:30 p.m.
Self-Supporting Fee: $65 (Adult - 12 and over) $59 (Child - under 12)
Call 873-5754 to register.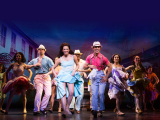 Registration Unavailable
On Your Feet! Broadway in Boston W18
with Jane Lee

Apr 21, 2018 at 7:30 am

, runs for 1 week
From their humble beginnings in Cuba, Emilio and Gloria Estefan came to America and broke through all barriers to become a crossover sensation at the very top of the pop music world. But just when they thought they had it all, they almost lost everything.
On Your Feet! takes you behind the music and inside the real story of this record-making and ground breaking couple who, in the face of adversity, found a way to end up on their feet.
Directed by two-time Tony Award winner Jerry Mitchell (Kinky Boots), with choreography by Olivier Award winner Sergio Trujillo (Jersey Boys) and an original book by Academy Award winner Alexander Dinelaris (Birdman). On Your Feet! features some of the most iconic songs of the past quarter-century and one of the most inspiring stories in music history.
The bus will depart from the Elm Plaza Shopping Center parking lot (closest to Main Street and in front of K-Mart) in Waterville at 7:30 a.m. and will make another pick-up at the West Gardiner Service Plaza at 8:00 a.m. After a "stretch-your-legs" break in Kennebunk we should arrive at Quincy Market at around 11:30 a.m. for some shopping and lunch on your own. We will then attend the 2:00 p.m. matinee at the Boston Opera House with our seats located in the mezzanine section!
We will head back to Maine after the show and after a "pit-stop" in Kennebunk and drop off in Gardiner, we should return to Waterville by approximately 9:00 p.m.
No refunds will be made after March 12, 2018. Fee includes transportation and theater ticket. You are expected to pay for your own meals.
Full Course