Filter by Subcategory
Personal Enrichment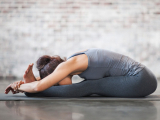 Yoga for Flexibility Messalonskee W19
with Mary Patterson,CR,RYT-200

Mar 27, 2019 at 6 pm

, runs for 7 weeks
This Hatha yoga class will focus on increasing flexibility and loosening tight muscles. It will focus on one or more different muscle sets each week and will help increase flexibility with yoga poses that encourage stretching. Yamuna balls will be used to roll on various muscles to help release tight areas and adhesions. Poses that help strengthen these muscles will also be practiced, since strength is also important for flexibility. Each class will start with some breathing exercises and centering, and will include flow in a slightly advancing way each week, ending with a few restorative postures. Please bring a yoga mat or other non-slip surface and small blanket. Yamuna balls provided. Limit 19 students. No class Apr. 17. Storm date of May 22.
Yoga Messalonskee W19
with Carol Paradis

Apr 1, 2019 at 5:30 pm

, runs for 6 weeks
A yoga practice can create the feeling of physical and emotional balance through the use of simple postures and focus on your breath. Benefits include reduced stress, improved digestive function and the promotion of greater flexibility. Learn techniques to manage anxiety and depression. We will practice the simple meditation techniques to focus and calm the mind. No experience is necessary. Please bring a Yoga mat or other non-slip surface and a blanket to class. Limit 18 students. No class Apr. 15. Storm date of May 20.
Will run
Zip-up the Back Cabled Baby Sweater Messalonskee W19
with Linda Rockwell-Warner

Mar 5, 2019 at 6 pm

, runs for 4 weeks
Use your knitting knowledge (Knit and Purl) to knit a classic pattern for a baby. This class will teach you to knit cables (don't worry, that's why we are offering this class!). You will knit a simple, but totally wearable sweater with minimal seaming, and learn how to sew in a zipper. This is a great sweater for the sweet baby you know or to donate to a charity. You will need worsted weight yarn (about 350-400 yards) and size US 8 -24 inch circular knitting needles for the first class. 10% discount at the Yardgoods Center in Waterville. Limit 10 Students.