Filter by Category
Gardening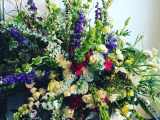 Registration Unavailable
Spring Flower Arrangement W19
with Cathy Ribbons

May 1, 2019 at 5:30 pm

, runs for 1 week
Come explore with me. Learn how to create a spring centerpiece for your home, or as a gift to brighten up another home! We will use a variety of ferns and spring flowers to create an arrangement that can be viewed from all sides. You may discover that there are many plants around you which you can use to create with once you know what to look for. You will be able to use you new skills to make arrangements year round. Please bring either a sharp knife or pair of scissors. An $8 material fee is payable to the instructor at the start of class. Limit 15 students.
Worm Composting Free Alumni Harvest Night May W19
with Jock Robie

May 30, 2019 at 6 pm

, runs for 1 week
This will be a free session for any interested alumni and new students. The instructor will inspect worm bins, demonstrate and assist with harvesting, and answer any questions. The instructor will bring six harvest kits for alumni to use harvesting their own worm bins.
Will run