Filter by Category
Gardening
Registration Unavailable
Preserving the Harvest: A Hands-On Food Preservation Workshop Messalonskee F17
with Kate McCarty

Sep 14, 2017 at 6 pm
, runs for 1 week
Ever wonder how to preserve all those great garden vegetables? This hands-on food preservation workshop will teach you the basic steps for canning and freezing. Participants will receive a "Preserving the Harvest" food preservation packet, and will learn recommended methods for preserving foods, the latest and safest recipes, about equipment to insure safety, and how to check for properly sealed jars. Please bring a potholder with you to the workshop (you will be able to take home a jar of what we prepare that evening!). A $20 material fee is payable to the instructor at start of class. Limit 10 students.
Full Course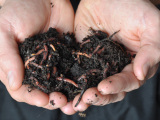 Worm Composting for Beginners F17
with Jock Robie

Sep 26, 2017 at 6 pm
, runs for 1 week
Come and learn how to construct, set up, and maintain a worm bin to compost kitchen vegetable waste in order to recycle it as plant food. Join Jock Robie as he discusses the harvesting of worm castings and vermicompost for gardening and houseplants as well as "worm tea"! Each student will set up their own worm bin with worms to take home. All materials and worms are supplied at no extra charge. Jock Robie has over eight years of practical experience designing, building, and using worm bins to compost kitchen waste. He feeds his 40 worm bins close to 35 pounds per week of kitchen scraps. Visit Jock's blog at mainelywormbins.blogspot.com for more information about worm composting. Limit 10 students.
Course will run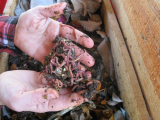 Worm Composting Free Alumni Harvest Night F17
with Jock Robie

Sep 28, 2017 at 6 pm
, runs for 1 week
This will be a free session for any interested alumni and new students. The instructor will inspect worm bins, demonstrate and assist with harvesting, and answer any questions. The instructor will bring six harvest kits for alumni to use harvesting their own worm bins.
Course will run