Filter by Subcategory
College Transitions
Registration Unavailable
Introduction to Psychology - PSY 101 W18
with Mark Kavanaugh

Jan 22, 2018

, runs for 17 weeks
This online learning course is a collaboration between the Through the Woods Consortium (Lawrence, Mid-Maine and Skowhegan Adult Education programs) and KVCC. This Maine College Transition course will provide an introduction to and overview of the study of human behaviors. Lectures and discussion topics will include: motivation, perception, historical roots, the biological basis of behavior, scientific methods, human development, psychopathology, and theory. The Virtual Learning Center & BlackBoard will be utilized to complete the assignments and activities within course perameters. Pre-requisites: high school diploma and a score of 238 or above on the CASAS Reading Assessment. Limit – 8 students. (3 KVCC credits)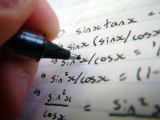 Registration Unavailable
Math Success for College W18
with TBA

Feb 26, 2018 at 5 pm

, runs for 7 weeks
Spring into College! Defeat that pesky math anxiety and join us on the KVCC campus for a "Math Success for College" course this spring! Designed for students who need to pass the Arithmetic portion of the ACCUPLACER exam, this course will cover basic math, whole numbers, fractions, decimals, & percents, word problems and the language of math. This class is designed to meet the needs of students who score below a 35 on the Arithmetic ACCUPLACER. In addition, during this class students will explore the academic skills and competencies skills essential to success at the college level. Skill sets to be covered include time management, organizational skills, study tips, test-taking strategies, navigation of the college campus, and more. Don't miss out on this new opportunity to greatly improve your math skills and start college off on the right foot! Limit 15 students.
No cost for eligible Through the Woods Maine College Transitions students.
Registration Unavailable
Number Skills for College W18
with Peter Macklin

Jan 22, 2018 at 5:30 pm

, runs for 15 weeks
This course will prepare students for Algebra I and/or entry-level college math. Whether you need a refresher before registering for your first college math course or need to improve your scores on the ACCUPLACER, you will find this course helpful. There will be a review of whole number operations, fractions, decimals, percentages, and other essential math skills. Word problems and the language of math will be explored. Limit 15 students. No class Feb. 19, and Apr. 16 and Apr. 23.